Welcome To My Farm!
Farmer delivered produce!  I believe in the CSA model of farming where farm members and farmer interact to create a great seasonal eating experience.  This is the reason that I am at the pick-up locations to greet the farm members so that I can grow the farm in the direction that serves the farm members best.  I invite you to join us in our adventure!  -Lora



Now Available!  
_______________
Experience eating in season with freshly picked veggies direct from my farm on the weeks that work best for you.  We have a limited number available each week so order early to reserve yours!  We raise over 99 different varieties of veggies over the season for farm members to enjoy.
This makes a great gift for a veggie loving friend!
 Offering 6 Pick-up locations for your convenience: Denver, Aurora, Littleton, Golden/Morrison, Highlands Ranch, and Brighton.  Click here for more details.
 ________________________________
We have some full shares still available & pro-rated.  
Call or email me if you have questions about joining:)  
-Lora 720 988-9088 or lora@lorasnourishingproduce.com
____________________________________
Harvest Day in the Life of a Farmer
Dream with me of a world where plump emerald snap peas swing in the crisp breeze, heavily laden with their sweet cargo.  In the distance, you can hear the rumble of wagons and the spring fever chatter of the farm ladies.  It is a new spring, bright with promise of tasty fresh produce after a long winter.  The ladies set to eagerly filling their baskets with peas while catching up with each others lives.
Malena is in the sunny hoop house carefully washing any field heat out of the freshly harvested boc choy at the rinse station.  The greenhouse has a delicate hint of basil wafting though from the many trays of lemon basil microgreens waiting tomorrow's ride to their destination.  These baby basil sprouts will be savored atop salads and as delicate garnish or maybe added to a pesto.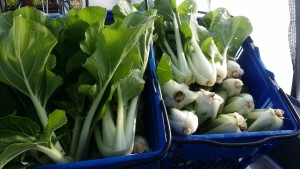 Meanwhile, back in the field, the peas are soon harvested and taken back to the barn in the wagons.  Each bag of peas is tied with a colorful bow to symbolize they were hand picked with care and love, in contrast to the fast pace disposable culture.
Then, into the fridge for some air-conditioning along side the boc choy.  The Swiss chard has had its row cover removed, complete with oohs and awes from the farm ladies admiring the crisp ruby, gold, and ivory stalks. 
Sue, Nancy, & Karen dive in, snapping the beautiful stalks with one hand and bunching them in the other.  Soon, baskets are full of colorful leafy bouquets and it is back to the stainless steel four-tub commercial size sink for a cool spritz.

Janet & Peggy walk in and with them a whiff of fresh dill travels through the air as the cute bunches arrive in the greenhouse to be prepared for their début.  Karen has been in the barn fridge room with stacks of 20 lb. boxes brimming with dark juicy red cherries gazing up at her, teasing her to taste their sweetness. 
They have been harvested from a multi-generational family organic orchard on Colorado's picturesque western slope.  These red candy-like fruits are making their way into 3lb. sacks also tied with a bright green ribbon.
Soon, the farm lunch triangle starts to bear its glad tidings.  The ladies eagerly take a break from the heat, wondering what is on the farm menu today.   They step inside the historical 100-year-old farmhouse to a blast of cool air and to guessing what the alluring aromas might bring to their plates.  They all settle in around the kitchen table with a refreshing cool drink. 
Today's lunch is Cheddar Polenta Stuffed Swiss Chard Leaves drenched in basil pasta sauce topped with Parmesan cheese.  There are hot biscuits coming out of the oven made with freshly ground flour.  They eagerly are smothered with organic butter and homemade Cardamom Plum Jam.  Bowls of those plump sugar snap peas and juicy red candy cherries have also made it to the table.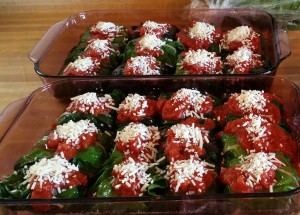 Everyone digs in and conversations start about the many ways to prepare Swiss chard.  Soon they all have their phones out and are creating a texting group to share with each other recipes and pictures of their farm adventures.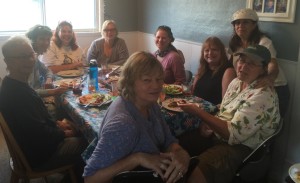 In the background, there is a low motor humming.  One of the ladies exclaims,  "I know what that sound is!"  Yes, it is the sound of homemade ice cream churning along with the rich smell of brownies coming from the oven.  Plans are discussed about how they could set up ten hammocks out on the front lawn.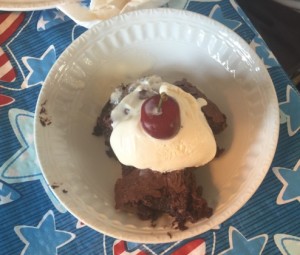 All too soon the leisurely lunch is enjoyed and they are refueled to tackle the last two items to be harvested – the first ever crop of rhubarb and the coveted spicy Rojo Garlic.  They split up into teams and in no time the rumble of overflowing wagons is once again heard as they make their final approach to the barn.  There is a flurry of trimming, bagging, and bow tying.  And just like that, everything is ready to be delivered. 
The farm ladies eagerly gather their share of the fresh harvested bounty and say good-bye to each other until next week's harvest. 
After sun up, all of those plump sugar snap peas, beautiful chard bouquets, crispy boc choy, savory dill bunches, spicy garlic, tart rhubarb, lemon basil micro greens, and juicy red cherries are loaded up for delivery to eagerly waiting farm members to start their own weekly farm fresh adventure.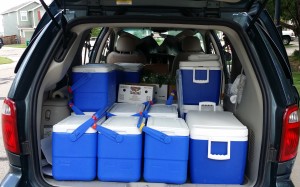 This is how our harvest day unfolds in the early spring here at our CSA farm.  It will change and grow a little each week, the peas fading with spring and summer bringing forth its full array of bounty. 
 This will come to include crisp cucumbers, tasty tomatoes, colorful baskets of peppers, candy sweet onions, varieties of summer squash, purple green beans, sweet pie pumpkins, and other crops as they come into season.  I believe strongly in the CSA farm model being one of much interaction between the farmer and the farm member. 
This is the reason I enjoy each Wednesday, delivering the produce myself.  That gives me the chance to interact one on one with all the farm members and hear the tantalizing stories of their culinary creations. 
If you have a passion for eating what is in season, love to cook with fresh ingredients from your CSA farm,  and crave the suspense of  delivery day (just like Christmas every week) then I invite you to join us this year on our farm culinary adventure. – Farmer Lora
__________________________________________
We specialize in growing over 175 varieties of produce throughout the season to provide you with a great local eating experience!
______________________________________ 
"My goal is to provide health conscious individuals and families with local, fresh, quality, produce in a convenient way." – Lora Epps
Sign up for our email newsletter!