2017 Vegetable Farm CSA Share
You are not too late to get in on a summer of farm fresh produce!  We have some shares still available & pro-rated.  
Click to purchase your CSA Share now!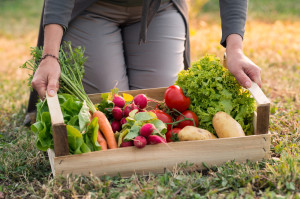 What is a CSA?
CSA stands for Community Supported Agriculture.  It is a growing movement of health conscious consumers who purchase a share of produce that is grown by local farmers.  The share is purchased in the spring and as produce comes into season,  CSA members receive a share of what is grown.  It is distributed at centrally-located pick-up points for convenience and also to reduce the carbon foot print.
What are the benefits of becoming a CSA Member?
Enjoy locally grown produce that has not been trucked in from 1000s of miles
Convenient for your lifestyle
Fresh picked and in season so that you get it at peak nutritional value
Reduce the carbon foot print as you are joining with other CSA members for centrally-located pick-up points.
You are supporting local farmers and the Colorado economy
How is Lora's Nourishing Produce grown?
Our mission is to produce nutrient-dense, health-building produce, thus the name: Lora's Nourishing Produce.  We do not use herbicides, pesticides, or anything else that would disturb the natural balance of how food is supposed to be grown.  To learn more, check out Our Story Page
When will I begin to receive produce?
You will start receiving produce the middle of June.  There will be one week of no delivery mid-summer.  We go through the second to last week in October for a total 18 weeks of tasty farm fresh produce!
How much produce do I get with a CSA share?
You will start off with leafy greens, sugar snap peas, micro greens and garlic scapes.  As the season progresses, the variety and amount increases as crops mature and are available.  Our goal is to provide you variety and in quantities for 2-3 adults or 2 adults and 2 younger children.  Some households, with diets that are more plant-based than the average, can opt to purchase 2 shares to fit their needs.
Do you offer half-shares?
At this time, I do not have half shares available.  You can e-mail me your name and the location that you are interested in getting a share and I can see if I can match you up with another person that is looking to split a share.  The best way is to ask a friend if they want to split it with you.  I do not recommend splitting a share though unless you are single as the portions sometimes are hard to split between two families.  My goal is to provide you with more variety than with large amounts of a few items and in proportions that I would use myself.
What will be in my produce share?
Here are some examples of what a weekly share might look like at different times of the season
(These are only examples and will vary according to growing conditions.)
Early July:  1 bunch kale, ½ lb. baby lettuce, 1 lb. English peas, and 1 bunch cilantro.
End of August: 1 lb. green beans, 1 lb. Middle Eastern cucumbers, 1 head of leaf lettuce, 1 lb. onions, ½ lb. mini sweet bell peppers, 2 lb. beef steak tomatoes, 1 lb. summer squash, and 1/8 lb. basil.
October:  1 bunch carrots, 1 bunch beets, 2 red bell peppers, 1 bunch scallions, 1 bunch rainbow Swiss chard, 1 butternut squash, and 2lbs. gold potatoes.
What are the pick-up locations and times?
Denver Pick-up location Wednesdays from 5:30 p.m. – 6:15 p.m.  It is near the corner of Holly and Evans in the parking lot of Holly Hills Bible Church
Aurora Pick-up location Wednesdays from 4 p.m. – 4:30 p.m.  It is near the corner of Buckley and Iliff at a CSA Member's residence.   (If you need to pick up your produce a little later in the day, we can arrange for you to drop off your cooler on the porch with an ice pack and I will load it with your produce while I am there.  You can pick it up on your way home that night at your convenience.)
Golden/Morrison Pick-up location Wednesdays 11a.m. – 11:30 a.m. Near Washington Ave. and Iowa St. in Golden at a CSA Member's residence.  (If you need to pick up your produce a little later in the day, we can arrange for you to drop off your cooler on the porch with an ice pack and I will load it with your produce while I am there.  You can pick it up on your way home that night at your convenience.)
Littleton Pick-up location Wednesdays 1:30p.m. – 9:30p.m. Near Littleton Blvd. and Windermere St. in Littleton at a CSA Member's residence.  This location will be drop off only and the coolers will arrive by 1:30p.m.  You can pick up your share at your convenience that afternoon or evening
Highlands Ranch  Pick-up location – Wednesdays 1:30p.m. – 2:15 p.m.  The cross streets are near S. Broadway  and W. Highlands Ranch Parkway at a CSA Member's residence.  (If you need to pick up your produce a little later in the day, we can arrange for you to drop off your cooler on the porch with an ice pack and I will load it with your produce while I am there.  You can pick it up on your way home that night at your convenience.)
 Brighton Pick-up location – Tuesdays from 5:30 p.m. – 6 p.m.  Pick up is at the farm near Highway 85 and 168th Ave.
You are responsible for picking up your produce at the location you selected during the stated times.  If you are not able to pick up, you can send a friend to get it for you.  If your share is not picked up for that week, it will be forfeited for that week.
How much does a CSA share cost?
$599/ Veggie/Herb Farm Share
$829 Combo Fruit & Veggie Farm Share
How do I purchase a CSA share?
You can sign up on-line and pay with:  Visa, MasterCard, American Express, Discover or PayPal.  You can also send a check to the farm address listed at the bottom of this website.
Do you have working shares?
We do offer a certain number of working shares each year.  If you are interested, send me an e-mail at lora@lorasnourishingproduce.com.
Do I get to pick what is in my CSA package?
No, all CSA shares are harvested to contain what is in season for that week and is selected according to what is in peak production for each week.  We will have recipes with your produce to help introduce you to any new produce you may have never had before.
Refunds:  Because of planning reasons, there are no refunds for CSA's.  If you are not able to continue, it is your responsibility to sell your share to someone else and notify us of the CSA share change.
Vegetable in our CSA Share are as follows:
Basil (3 varieties)
Parsley
Cilantro
Other Herbs
Micro Greens (They are a little bigger than sprouts.  We will have different varieties for adding to your salad for a refreshing new flavor.  These micro greens may include: basil, broccoli, cress, radish, cabbage…..)
Leaf Lettuce Heads
Kale (2 varieties)
Swiss Chard (3 varieties)
Carrots (red, yellow, orange, white)
Radishes
Beets (2+ varieties)
Scallions (2 varieties)
Tomatillos
Tomatoes (4+ varieties)
Cherry Tomatoes (7+ varieties)
Peppers (18+varieties)
Cucumbers (4+ varieties)
Kohlrabi (2 varieties)
Okra (red & green)
Onions (Sweet, red, and heirloom)
Egg Plant (3+varieties)
Turnips
Green Beans (3+ varieties)
Summer squash (4 varieties)
Zucchini  (green and yellow)
Melons/Watermelons
Potatoes
Pumpkins
Winter Squash (5+ varieties)
Broccoli
Cabbage
Leeks
All produce items listed here are what we are planning on providing for CSA Members.  Due to the nature of weather and the possibility of crop failure, there may be a few items that are unavailable.
Watermelons, melons, and tomatoes will stay with the Veggie/Herb CSA Share as I raise them on my farm.  The fruit share comes from the Colorado Western Slope.  Check out our Organic Western Slope Fruit Share!
Click to purchase your CSA Share now!
Check out what Grace Farm Members have to say about their CSA farm experience:
By: Catherine
Catherine wrote an article on our farm for Sparks(Brighton Library Publication): Meditating on the Land
By: Joan
We have thoroughly enjoyed Lora's Nourishing Produce and hope to continue participation for many years.  The vegetables and fruits are healthy, beautifully grown and presented by a true farmer.  Lora's knowledge and enthusiasm result in delicious produce which is a delight to receive each week.  She provides recipes and all kinds of information.   Pick ups are easy and fun and there are pick up locations all over the Denver area.   We look forward to visiting Lora's farm this summer with our granddaughter, so she can see where all this wonderful food comes from!!  Thanks Lora, we appreciate your work and produce!!
High-quality, long-lasting, flavorful produce
By: Andre    (Feb 23, 2013)
There's nothing better than local produce, and Lora's Nourishing Produce exemplifies that. Compared with most store-bought produce, it lasts longer once you get it home and tastes better, too. Lora grows a wonderful variety of produce, including heirloom varieties; it would be difficult to grow that much variety in my back yard, so even if I had the time to tend to a garden, there are clear benefits to joining this CSA. The fruit she gets directly from Colorado farmers (e.g. those on the western slope) is also top-notch. Lora makes it easy to obtain CSA shares with multiple drop-off locations.
I volunteered on Lora's farm, located in Brighton, in 2012, and I will be volunteering again this year. Connecting more with my food brings me great joy 🙂
The Best Produce
By: Ethel    (Feb 23, 2013)(farm member from the beginning in 2006)
Lora provides wonderful produce. The variety for a small farm is amazing. She researches heirloom varieties and delivers them fresh-picked. The fruit she doesn't grow herself is top quality. The prices are competitive with Whole Foods or other organic stores.
If pesticide/herbicide free, super-fresh produce is important to you and your family, this is the way to go–and easier than growing it on your own!
By: Cindy (Farm Member since 2013 Season)
I've been thinking about joining a CSA for several years, I shied away from doing so because I was worried I would receive a lot of "weird vegetables" that I wouldn't know how to prepare and/or wouldn't like to eat. In 2013, after doing a LOT of research, I decided to try CSA and chose Lora's Nourishing Vegetables.
Working with Lora was such a wonderfully pleasant surprise!
I recommend Lora to all of my friends and family. The arguments against CSA that I constantly receive (and my rebuttals) in return are:
1)    It's so expensive. My response: Actually, it's comparable to shopping for QUALITY produce at King Soopers, Vitamin Cottage, or Whole Foods. I did the math. Yes, you have to pay up front, which can be a lot of money for some people living paycheck to paycheck to come up with in one payment. However, with a little planning, you can put aside enough money to pay the lump payment in the Spring.
2)    It's a hassle to have to pick up the produce. My response: Yes, it takes a little extra planning, but with so many pickup locations around the metro area, you should be able to find a location that is convenient. AND, if a group of co-workers sign up with you, you might be able to convince Lora to add a new location!
3)    But I don't LIKE kale. My response: Have you tried it? I hadn't before I joined CSA. Now I love kale, micro greens, and lots of other vegetables that I was introduced to last year. More importantly, I am able to receive fresh vegetables through the CSA that I can't even buy (at any price) in my local grocery store.
4)    Even if I wanted to try CSA, I won't know how to fix the vegetables and will end up wasting a lot of money as the vegetables go bad in my refrigerator. My response: Choose Lora's Nourishing Produce! Lora provides a recipe idea for every vegetable you pick up! Last year I made a cheddar pear pie using Lora's included recipe. I would have never even searched for this recipe on-line and may I just say "YUM!"
5)    But it's just my husband and me. We won't be able to eat that much fresh produce every week. My response: First, store everything in aluminum foil in the refrigerator. You'll be amazed how it prolongs the freshness of vegetables. Secondly, my husband and I were able to keep up with the volume just fine. He was even away one of the weeks and I was able to eat everything on my own. Of course, it means you may be eating more vegetables than you currently include in your diet, but that is a very healthy choice!
6)    I'm going to be out of town several times this summer. Will I just miss my vegetables those weeks? My response: We were gone a few times last year as well. During the summer, I gifted my weeks away to a friend. I notified Lora who would be picking up my share and my friend was able to enjoy some fresh vegetables (that she STILL raves about).
I am so glad I finally decided to try CSA last year. I love the variety, freshness, quality, and Lora's commitment to good land stewardship by choosing not to use pesticides, herbicides or any chemicals. Lora has chosen to use methods that don't include anything you wouldn't want to eat.
I also HIGHLY recommend the Fall CSA. I was a little leery about receiving canned, frozen, and dried food that I had not personally prepared, as I have pretty high hygiene standards. (I only eat my own food at potlucks.) I discussed this with Lora and discovered she is just as committed to food safty as I am. I enjoyed the Fall share as much or more as the Summer share.
Quality
By: Diane    (Apr 28, 2013)
I have ordered from Lora when she was offering a la carte and when she moved to a CSA. Lora is very conscious and conscientious regarding how she nourishes the land and her animals and the food she produces reflects this. As with the previous posts – her food tastes great and lasts much longer than any similar product purchased from a "high end" store. Lora also cares about her CSA members-providing recipes and staying in touch.
Beautiful Produce!
By:    (Nov 3, 2009)
This was our first time participating in a CSA and we loved it!
It is really neat to pick up you veggies each week from the person who is also the grower. Lora included recipes in many of her weeks deliveries which was an awesome bonus. The produce was beautiful and very delicious.
We are hooked and look forward to next season.
Heather
Click to purchase your CSA Share now!