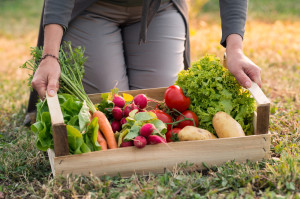 Your produce is only as nutritious as the soil that it was grown in!
Because of that reason, I thought I would explain how that figures into how we raise produce here at Grace Farm. A fun fact to know, that I learned from a Salad Master Cookware demonstrator, is that the color/vibrancy of your produce indicates the vitamin content and the taste indicates minerals. That is probably why we gravitate to richly colored vegetables instead of pale as our body knows the vibrant one is a better choice and that the rich taste of a home grown tomato has probably been grown on more mineral rich soil in your backyard than some of the tomatoes in the store that have been grown on mineral depleted soils. That is why they do not have any taste or at least very few do.
Most of us would rather spend our time and excitement on the planning of what we want to plant, watering, and weeding than to think about nurturing the soil. I have learned though that poor care of the soil only produces pour nutrition  in vegetables. Here at the farm, we take a soil test at the end of every growing season and send it into a lab that does extensive testing to see what minerals need to be added to the soil for the next growing season. Most soil tests only test for the three numbers you see on fertilizer bags. N-P-K. We chose this lab because they test beyond that for many other minerals. This year, our test came back needing to add 5 minerals. Some of those in vary small amounts but each one is important for that balance. After we get our soil test results back, we plug the amounts needed of each mineral into the computer which figures out for each row (based on square footage of the row) how much we need to add. Then, we measure the fertilizer out and spread it on each row before it is rototilled.  We tend to fertilize the rows just before we need to plant so the soil is fresh with nutrients and in great shape from rototilling.
Caring for the soil in this way along with no pesticides or herbicides is the reason for the "Nourishing Produce" in our name. I am eager to grow this produce for our farm members! If you have not yet joined us we welcome you to join us in the quest for nourishing produce by becoming a CSA Farm Member! -Lora Epps
_____________________________________
Lora's Nourishing Produce is owned by Lora Epps of Brighton,Colorado. She grew up in Colorado in a health conscious family and learned about the quality of the food we fuel our bodies with and how it affects our lives. She became interested in organic farming and was an intern for one and a half years at Berry Patch Farms in Brighton,Colorado. She then became their manager for two and a half years.  There she learned to identify and care for premium quality fresh-picked produce. She was also involved in the many tours and school groups that came to the farm to educate children about where their food comes from. Because of the desire for fresh organic produce in and around the Denver area, in 2006, she started a produce delivery service called My Organic Farmer, from Berry Patch Farms to Denver residents.
In 2009, Lora decided to use what she had learned in her four years at the farm and start raising the produce herself for her delivery service. My Organic Farmer was changed to Lora's Nourishing Produce. This was a step toward her dream of raising local produce for Denver area residents. Her goal is to be able to grow as much of the produce as possible so that she can get it to you at the freshest most nutritious stage, straight from harvest to your table.  To provide the depth of produce variety she wants her customers to experience, she will still be supporting a few Colorado Organic Farmers.
We are also excited to have Marla Epps working with us in researching growing methods that maximize producing nutrient-dense, health-building produce, thus the name: Lora's Nourishing Produce. Marla has a Master's degree in horticulture from CSU. Her special focus is on all the factors that affect the soil in which the plants are grown. The goal is to provide a healthy environment for the soil-based organisms that convert the elements in the soil into forms that can be absorbed and utilized by the roots to grow vitamin-, mineral-, enzyme-, nutrient-rich produce. To accomplish this, include the use of organic compost and OMRI approved soil enhancements as a few of our methods. This means we will not be using the typical petroleum-based, commercial N-P-K fertilizers, herbicides or pesticides or anything else that would disturb the natural balance of how food is supposed to be grown.
Lora's Nourishing Produce brings the grower and consumer together with no middle men, to deliver the produce straight from harvest to your table.
 "My goal is to provide health conscious individuals and families with direct, fresh, local produce in a convenient way." –Lora Epps